Modification/Safety Upgrades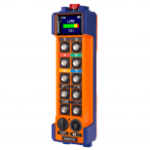 Since the conception of Avon Lifting Services we have successfully undertaken virtually every type of modification or safety upgrade to existing doors, cranes, hoists, runways, jibs etc. A typical selection of possible modifications/safety upgrades would be as follows;
As the equipment gets older it is likely that the existing electrical control gear and safety systems may not meet current legislation or application yet the main structure is more often than not in a satisfactory condition, an electrical update may prolong the equipments life and some cases (Frequency Inverters) improve control. At Avon Lifting Services we have the ability to design, build and install new control panels and control gear to include Frequency drives, new powerfeed systems, new up to date safety systems which can provide a more cost efficient solution compared to replacing the equipment with new.
The above updates could include safety enhancing  features such as Anti-Collision systems to prevent cranes hitting, Load Limiting devices to prevent inadvertent overloading of cranes/hoists, Warning sirens/beacons, safety edge protection and photocells for doors etc.
Radio control conversions are becoming increasingly popular as an alternative to pendant or cab controlled cranes, the benefits of converting cab controlled cranes are obvious as it allows the crane to be operated by one person at floor level from the most advantageous position increasing safety & reducing manpower required to move loads.